Legal Casino Gambling In Florida
The Sunshine State is known for two things: beautiful beaches and theme parks. With Disney, Universal Studios, and Busch Gardens topping the lists of visitors, it is safe to say that theme parks are a major attraction for tourists and residents alike. But have you ever thought about what adults do to take a bit of a break from all of that park hopping? Many turn to the numerous casinos throughout Florida for a bit of fun without having to have the kids tag along. At these casinos, individuals can relax, enjoy their favorite games, and get swept up in the excitement of the atmosphere.
While gambling is a great way to top off a fun vacation, it is important that individuals understand what is and is not allowed according to Florida's legal code. This page will serve as a reference to help you understand Florida's laws pertaining to gambling and assist you in making educated, responsible decisions regarding your gambling activity while you are in the Sunshine State.
Does Florida Have Legal Land-Based Casinos?
Commercial casinos are not permitted in Florida; however, there is a very strong presence of tribal casinos throughout the southern half of the state. The Seminole Tribe runs these casinos in accordance with a long-standing agreement with the state. Tampa, Miami, Hollywood, Immokalee, Coconut Creek, and Okeechobee are all cities that are home to tribal casinos. Additionally, there is a casino cruise that runs out of Riviera Beach. All of the different gambling attractions in the state are favorites among visitors and residents for various reasons, but they all provide the exciting atmosphere that players look for when choosing a casino.
Are Online Casinos Legal in Florida?
The question of the legality of online casinos is one that has been raised in virtually every state. Many Florida residents know that, technically, the state's legal code doesn't speak directly to online gambling. As such, many individuals feel safe turning to legal online casinos that accept Florida residents. The trick, when pursuing online gambling options, is to find an Internet-based casino that operates legally out of its geographic location and caters to the needs of players in the Sunshine State. Additionally, it is important that individuals in this state understand how to identify a trustworthy online casino.
Online Casinos that Accept Florida Residents
We have reviewed several top online casinos that we believe can be trusted by Florida residents. Players in the Sunshine State can turn to these casinos for a safe, fun, and highly supportive experience. The key to enjoying online gambling is picking the right community, and these are fabulous places to start your search! Trust us—opting to engage with the right online casino can make a world of difference.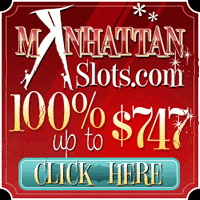 Manhattan Slots
Safe + Trusted For Florida Residents
Registration: No Cost + Quick - Get Started
Funding Options: Visa, MasterCard, Debit + Prepaid Cards
Payout Options: Check, Wire Transfer, Bank Wire, Re-Credit
Slots Bonus: 100% Match To $747 2X- NO CODE NEEDED!
Games Bonus: 100% Match To $150- NO CODE NEEDED!
Learn More: Manhattan Slots
Florida's Casino Gambling Laws
Generally, the state of Florida is quite strict with regard to gambling. In fact, given its broad definitions of gambling and wagering, you might be surprised that the state is as supportive of tribal casinos as it is. But Florida residents certainly aren't complaining, as the casinos set up by the Seminole Tribe are favorite destinations for players. If you are visiting Florida any time soon, or if you live in the Sunshine State, it's a great idea to check out these casinos if you haven't. And if you have, why not take another trip?
Other Forms of Gambling in Florida
Aside from tribal casinos, Florida allows a few other forms of legal gambling within its boundaries. Pari-mutuel wagering on dog and horse races are quite popular, and there are several tracks across the state that engage in greyhound racing. Additionally, the Sunshine State runs a lottery and allows for some charitable bingo games (when properly regulated and authorized).
Finally, there is an exception to the law with regard to social gambling, but the state has pretty strict regulations pertaining to these games. Individuals involved must be over 18 years of age and there can be no profit made from the game. Additionally, there is a $10 cap on a per hand, per round basis to ensure that these games qualify as "penny ante." So, while Florida is quite restricted with regard to the gambling it offers its residents, there are many betting opportunities to take advantage of in Florida.